Affordable Choice For a Local Dumpster Rental Lafayette LA
Dumpit.biz dumpster rental Lafayette LA is the place to go when you have trash to get rid of. We provide dumpsters for any project that requires the removal of waste and debris. Dumpit.biz is the most dependable Lafayette dumpster rental service available. Day in and day out, our customers in the Lafayette, Louisiana community are faced with a need to get rid of that unwanted trash, construction debris, or just basically anything and everything you don't want to lay around anymore. That's why the folks at Dumpit.biz have the perfect solution for you. Contact us now at (337) 552-5009 to rent a dumpster in Lafayette today.

Choosing to rent a dumpster Lafayette LA doesn't necessarily mean they are reserved for contractors and large construction companies because lots of our customers are homeowners or small business owners. It's the best solution for a business owner or homeowner who wants to get rid of a lot of garbage quickly and affordably without having to drive to a local dump or landfill or transfer station in Lafayette Parish. Let us take the hassle away on that aspect. Any of our Lafayette LA dumpster rentals will allow you to toss all the waste you need to, at your convenience.

Dumpit.biz is a local waste removal company that takes pride in providing our customers with the best dumpster rental services Lafayette, LA has come to love for all their projects. Call us at (337) 552-5009 to rent yours today or book online right on our totally interactive website.

Book Online

Find the Right Roll Off at the Right Price
Our flat rates keep your costs low and predictable.
Our 10, 15, 20 and 30 yard dumpsters can accommodate almost any project.
We have a professional team of support representatives ready to assist you.
We offer same day delivery and service.
We offer longer rental periods to fit your schedule.
Lafayette Dumpster Rental
Let Us Help With Your Decision

If it's your first time renting a dumpster in Lafayette and the surrounding area's, we can provide you with helpful dumpster rental tips along with information on our rentals. Get dumpster sizes, dumpster rental prices and any other information you may need to know.
Book Online Now
Roll Off Dumpster Rentals
Various Uses for a Roll Off Dumpster Rental in Lafayette LA
Allowing garbage containment to slow down your project is unnecessary when you rent a dumpster in Lafayette, LA. When you have a trash containment bin on your site from dumpster rental Lafayette LA, you work smarter, not harder.

Our container rentals in Lafayette comes in a variety of sizes, and our staff is happy to assist you in selecting the right one for your project.

We can manage waste from any project, from a homeowner's garage cleanout and yard debris disposal to a contractor rebuilding an apartment building, and anything in between. Here are a few examples of how garbage dumpster rental Lafayette LA can be used.
Yard Waste Dumpster Rental in Lafayette
For yard work, we provide the rental dumpster Lafayette that homeowners choose. When you have branches, brush, and leaves from trees, yard debris can quickly pile up. Clean out the garden shed, complete the landscaping project, and finish your gardening. With our rental dumpster Lafayette, you can be assured that you'll be able to get rid of everything.
Chances are your trashman won't take your yard debris, so do the smart thing our homeowners do and give us a call today!
Construction Dumpsters In Lafayette LA
Contractors who use dumpsters in Lafayette LA understand how important they are. Dumpit.biz has a wide range of sizes to suit both home and commercial construction projects.
Roofing contractors and general contractors alike love our huge roll off dumpsters in Lafayette, LA. From modest operations to large construction projects, we have the greatest alternatives for containing various unwanted materials. Simply fill the container with trash such as roofing shingles, and we'll take care of the rest. When it comes to waste containment, we are the finest alternative. See why so many general contractors rely on us for roll off dumpster rentals in Lafayette, LA.
Roofing Material Trash Dumpster Rental In Lafayette
Our local roofer use trash Our local roofers use trash dumpster rentals in Lafayette to keep their material contained. Our exceptional reputation is built on having a high-quality roofing dumpster delivered to the project site on time, every time. When a roofing job necessitates a trash bin in Lafayette, rest confident that our staff will deliver the container on time, ensuring that your work schedule is not disrupted. Our driver will place the dumpster exactly where you need it if you provide us with the placement requirements ahead of time.
Demolition Dumpster Lafayette LA
Do you require roll off dumpsters for a demolition project in Lafayette, LA? It's no problem!
We have a dumpster Lafayette LA option for you. Contractors require heavy-duty containers for their debris, and we have them. For major construction, large-scale projects, debris containment, and removal, you can count on us.
Residential Lafayette Dumpster Rental
You can use a small dumpster rental Lafayette LA in a variety of situations as a homeowner. You'll need to get rid of the old fixtures for the kitchen remodel you finally saved up for. The junk is carted away from the attic, which has become overrun with everyone's unwanted and unneeded items, and the space is repurposed. Remove that old shed that detracts from the appeal of your home. No problem if you've never rented a dumpster before; the Lafayette dumpster rental service will question you about your job and direct you to the container that will give the safe containment you require for your home project.

Let Dumpit.biz assist you in making your home renovation as effective as possible by calling or going online today.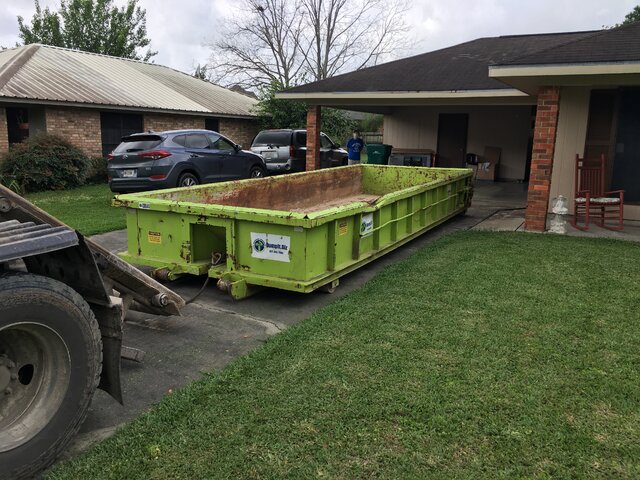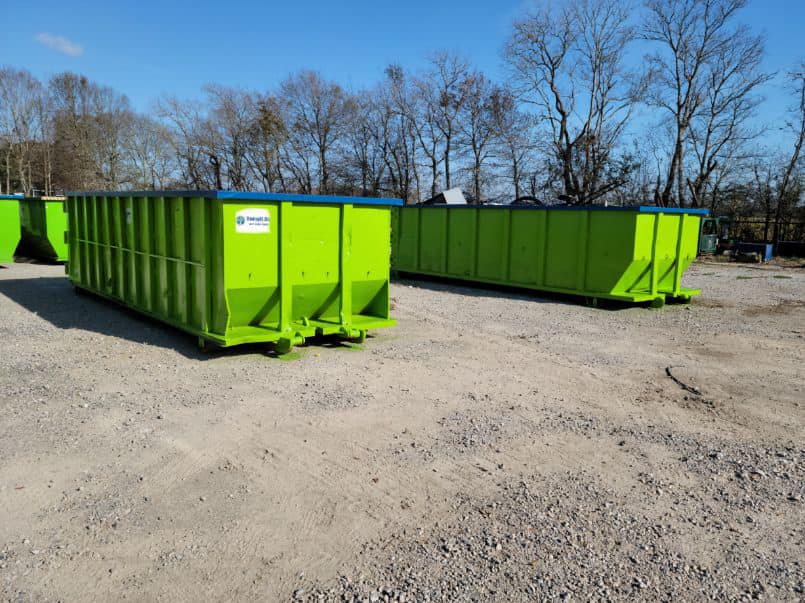 Commercial Dumpster For Business Lafayette
When it comes to renting a dumpster for a business in Lafayette, all of the local business owners know who to call! We provide dumpsters in a variety of sizes to meet any commercial or industrial dumpster needs in Lafayette.

Cleanouts, rental unit remodels, and other commercial garbage removal tasks require the dependable choices that we provide. We can accommodate your business needs whether you need a one-time or short-term or a long-term waste disposal solution. Contact our team today to learn more about our services for assisting your company's growth.
Why Choose Us for a Roll Off Dumpster Rental Lafayette
When it comes to rent a dumpster Lafayette, you have options. While we are one among many, remember that having a stress-free experience requires choosing the firm with the best track record.

We are the firm you can count on for any type of roll off dumpsters in Lafayette, no matter how big or small the job is. We only offer options that are of the greatest quality and built to last. Our rentals will get the job done right without having to worry about leaking containers or back gates that are difficult to open or close, perhaps posing a safety threat.

Our team is available to assist you with dumpster size selection so that you get the right container for the job without having to worry about running out of space. From the initial order placement to our courteous drivers taking away your debris, we treat all elements of our business seriously, leaving you as another satisfied, and most likely repeat customer. Dumpit.biz is proud of our great customer service. We provide service throughout Louisiana including dumpster rentals in Lake Charles, LA.
Sizes to Choose From for Your Dumpster Rental Lafayette Needs
At Dumpit.biz we have the perfect size dumpster option for anyone needing a dumpster rental Lafayette.

Choosing from the 10, 15, 20, and 30 yard dumpsters Lafayette depends on the scope and size of your project.

10 yard: will accommodate the small household cleanout, garage, and attic
15 yard: will be used by homeowners for their yard debris etc.
20 yard: is great for the larger household who is moving or doing a remodel
30 yard: is used by many contractors, roofers for a one day job
Servicing All of Dumpster Rental Near Me Lafayette
Here at Dumpit.biz, we're proud to service not only all of Lafayette LA and Lafayette Parrish, but all the neighboring cities and communities nearby. We deliver to the following zip codes in Lafayette; 70501, 70502, 70503, 70504, 70505, 70506, 70507, 70508, 70509, 70583, 70593, 70596, 70598. We also cover the following cities: Youngsville, Broussard, Lake Charles, Moss Bluff, Sulphur, Port Barre, Beaux Bridge, Crowley, Milton, New Iberia.

Don't see your zip code or city listed? Reach out to one of our friendly customer service reps and we'll let you know if we cover your area!
FAQs for Dumpster Lafayette LA
We ensure that renting a dumpster from us will be a hassle-free experience. Every customer should be well-informed and confident throughout the renting process. Here are some frequently asked questions; if you have any more questions, please contact us; our team would be pleased to assist you!
1. I need a Lafayette LA dumpster but can I afford it?
We offer budget prices and flexible rental terms to service all customers.
2. How much weight can I put in the dumpster Lafayette LA?
Our website shows the amount of tonnage recommended for each size container
3. What if I run out of room before I have completed my job?
Give us a call right away and we will dispatch a driver to your location to swap out the filled bin with another one.
Local Dumpster Rental In Lafayette Customers Are Raving
We like to think of ourselves as the local dumpster rental experts, and our hundreds of 5-star ratings back us up. Local customers have repeatedly expressed their satisfaction with our high-quality, trustworthy service.
They recommended the perfect size local dumpster rental in Lafayette for my job. Job complete! G. Wood
Use this company for all your local dumpster rental in Lafayette, they are the pros! T. Goslin
I am definitely going to be a repeat customer, high quality service at affordable prices! J. Perry
Our Service Area
Proud to Serve The Following Areas
If your project site is beyond that radius, just let us know! We frequently deliver even farther out, and special accommodations can usually be made to suit your project - and your wallet.
NOTE: Extra fees may vary depending on how far you are outside our service area.